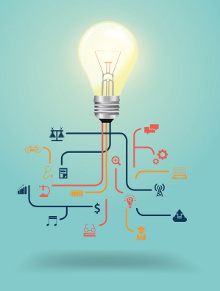 Our Offer
Owing to our long experience in marketing communication, we can properly assess a promotional project from any sector and its requirements. Our experience comes from delivering projects mostly in the following sectors: IT, management systems, construction, education and the media. We plan and manage marketing projects. We elaborate communication concepts, organise events, prepare, contract and supervise graphic design and printing projects.
Special Events
The ComCom.pl team has proved its effectiveness and efficiency in organising all types of conferences, artistic and social events, including integration and sporting events.
Comcom.pl offers a turn-key solution: from planning the concept, suggesting the right type of event venue, provision of registration tools, designing, printing and distribution of invitations, graphic design of the scenery and promotional materials, listing and delivering technical equipment, through servicing the event on location including the artistic entertainment or integration programme, organisation of accommodation and meals, to the filming and photographing of the event.
Copywrigting, content writing
With our experience in journalism and creative writing skills, we feel we can claim mastery in developing advertising concepts and messages, information texts, how-to books, newsletters, brochures and leaflets, presentations and SEO-optimised website content.
We can offer an attractive combination of advertising slogans, information content and intriguing graphic design creating attractive and one-of-a-kind press advertising and printed materials.
BTL
We are very good at developing intriguing and brilliantly accurate messages when running BTL campaigns, using various media and components, including creative content, graphics, acoustic and visual components, items which are the dominant feature of BTL, as well as attractive packaging.
Registration systems and on-line communication
In the organisation of different types of events, we appreciate the importance of an effective and well-organised guest invitation and registration process just as much as our clients do. We offer our proprietary on-line registration system which collects participants' details, facilitates automatic correspondence and generates the necessary event registration and payment documents. We prepare invitations and newsletters and distribute them.
Films, video and audio clips
We are very well acquainted with all aspects of audio-visual production. We develop scripts and produce different forms of films, including promotional, instructional, documentary film and TV commercials. We are fans of well-planned surprises and engage in meticulous surveys to guarantee that "our" materials are well-researched and based on sound technical basis.
Graphic design
Our services include graphic design such as adapting our clients' materials to new needs, customising them, preparing scenography visualisation and presentation stands. We design invitations, information brochures and materials, banners and other elements for our clients' events.